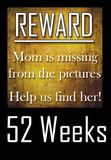 I was visiting my friend
Shelo of Mi Mundo del Amor
's blog and read her entry about this 52 Week Challenge hosted by
Carin in Forever in Blue Jeans
. I got interested and wanted to join the challenge so I headed over Forever in Blue Jeans Site. And the challenge is very simple, for every Thursdays you must post a picture of you and your child or your children for 52 Weeks.
And since me and my son loves to take pictures together almost every day I was encourage to join in this 52 Weeks Challenge.
Here's my 1st entry for this Thursday :)

We were watching tv and my son got my cellphone and ask me to take pictures of us.


what's with that big eyes? :)
wacky pix. . .jonjon you were not looking at the cam
oh so sweet. . .:)
For more 52 Weeks Challenge entries, just click the button above :)