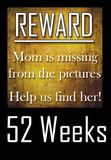 Ooppsss...I'm a bit late in posting my entry for today's 52 Weeks Challenge. Got so busy at the office today, have to attend a whole day workshop. Anyways better late than never. :)
Here's my 3rd entry:

This pictures were taken last November 2 at the cemetery while paying respect at my father's tomb. Unfortunately my son haven't seen his grandpa for I was not married then when my father died.
For more 52 Weeks Challenge entries, just click the button above :)

Happy Thursday!!!